Chesty's Pizza Box Qualification: How this Legend's Marine Corps Career Almost Never Happened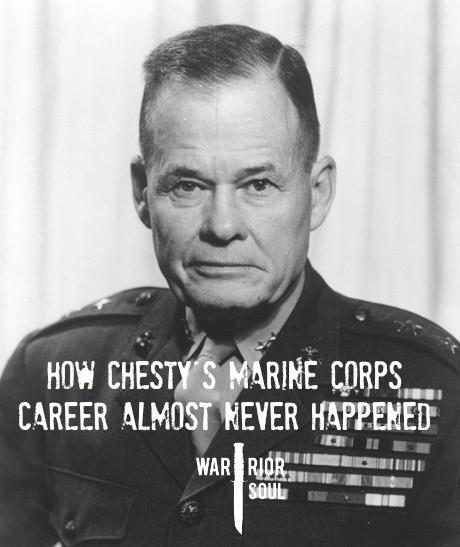 I was reading a book about Chesty Puller the other day called Chesty: The Story of Lieutenant General Lewis B. Puller, USMC.
I never knew this but Chesty's Marine Corps career almost never happened.

The thing is, Chesty graduated from OCS two months after the end of World War I. The Marine Corps was being downsized from 73,000 to under 20,000 with only 1200 officers. The Commandant of the Marine Corps basically told his entire OCS class, "Congratulations, you're marines, remember what you learned here and go back to your civilian lives. Good luck."

On top of that, Chesty was not very remarkable in Boot Camp or OCS. He was middle of the road in almost everything and in boot camp, he shot Marksman and got the pizza box. For the civilians who are reading this, this is the lowest rifle qualification score for a US Marine to qualify with his weapon. Chesty wasn't going to be able to argue his way to becoming a platoon commander based on his merits in OCS.


So what did Chesty do?

He found a war. A war in Haiti to be exact, where revolutionaries were trying to topple the government.. As a marine, he could serve there in the Gendarme D'Haiti.  To do so, however, he had to resign his commission and go back to being a private. He went to Haiti, and fought in over 40 engagements with the enemy over five years as an enlisted man before returning to the United States and receiving his commission.

My point is this: after OCS, had Chesty listened to everyone else, he never would have had a Marine Corps career. The only reason he was ever able to was because he figured out a way. And during those five years in Haiti, he honed his skills in combat.

Wherever you are right now, understand this: the path to greatness is not easy. There is a hard road ahead of you in any pursuit. But it's traveling that road that makes you great.

If you see obstacles in front of you, be thankful for them. Overcoming those obstacles is where you will build your own legend. Be persistent and keep an eye on your goal at all times!

Semper Fi,

Chris
<p><a href="https://onnit.com/abinstantoffer?a_aid=WarriorSoul&amp;a_bid=3b849c78″ target="_top"><img src="//onnit.postaffiliatepro.com/accounts/default1/dw9wnb/3b849c78.gif" alt="Introducing Alpha BRAIN Instant. Our fastest way to help optimize your mental performance, without the use of any stimulants. Available in two delicious flavors! Plus get FREE Brain Health Protocol E-Book with purchase!" title="Introducing Alpha BRAIN Instant. Our fastest way to help optimize your mental performance, without the use of any stimulants. Available in two delicious flavors! Plus get FREE Brain Health Protocol E-Book with purchase!" width="728″ height="90″ /></a>