Field Feasts: The Tastiest MRE Recipes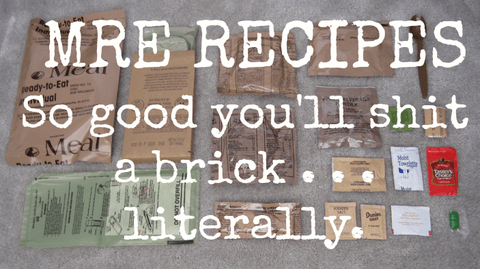 *You probably won't have all of the ingredients to make each recipe.  You know the deal . . . barter what you can to get it, even if it involves trading your first born child.  Dip and cigarettes are useful to have on hand, even if you don't use them, for this purpose.  No, we don't encourage you to smoke or dip, but we understand how shit gets in the field.
**Many of these recipes were originally posted at Survival Gear.  Check them out if you're looking to supplement your own MRE stash or if, for some reason, you're out and you have a really weird taste for MREs and sitting on the toilet for an hour trying to shit a muscle.

Pot Luck Pie
1 pouch Beef Stew
½ packet Cheese Spread
4 dashes Hot Sauce (optional)
½ pack Crackers (crumbled)
Heat Beef Stew and Cheese Spread in heater
Then combine Stew, Cheese, Hot Sauce and top with Cracker crumbles

Cheese Burger
1 pack Cheese Spread (does not need heating)
1 pack Snack Wheat Bread
1 pouch Beef Patty (Heated)
Hot Sauce (optional)
Spread Cheese on Snack Wheat Bread
Top with heated Beef Patty
Add Hot Sauce to taste
Serve open-faced
Enchilada Soup
1 pouch heated Beef Enchiladas
1 packet Cheese Spread (heated)
4 ounces heated water (1/6 canteen cup)
Hot Sauce to taste
Cut Beef Enchiladas into small pieces
Add cheese spread, water and hot sauce mix well
Loaded Baked Potato
1 package of Mashed Potatoes
1 package of Cheese & Bacon Spread
1 bottle of Hot Sauce
1 package of salt
1 full cracker, crumbled
Warm the mashed potatoes as you normally would. Include the cheese pack for easy mixing. Once warm, add the cheese and bacon spread, hot sauce, and salt to taste. When everything is mixed, sprinkle crumbs from the cracker to the mixture and enjoy.
MRE Hash
1 pouch Beef Patty (heated)
1 pouch Mashed Potatoes (heated)
Hot Sauce to taste
1 packet Cheese Spread, optional (heated)
Cut Beef Patty into ½ inch pieces, stir in Potatoes, Hot Sauce and Cheese Spread if desired and mix.
Baghdad Chili
Ingredients:
1 Grilled Beef Steak package (heated)
1 Western Style Beans package (heated)
1 Package of Crackers
1 Package of Red Pepper
Directions:
1. Break Beef Steak into desired chunks then add western style beans.
2. Mix, but do not pour out Beef Steak sauce before mixing.
3. Crush crackers and add them to the dish.
4. And to complete your creation, add red pepper and seasoning from accessory pack to taste. Enjoy.
Mocha Frosting
1 pouch of MRE cocoa
1 packet of instant coffee
Water as needed
Add only enough water to the cocoa mix to resemble frosting. Add coffee granules as you wish to create a mocha flavor. Spread this frosting on such items as MRE pound cake, cookies and crackers.
Peanut Butter Chocolate Pudding
Ingredients (consolidated from several MREs):
crackers
peanut butter
hot cocoa
coffee
sugar
Directions:
With the package unopened, pulverize the crackers.  Peel open the package of crackers about 1/4 to 1/2 inch from edge and tear straight across; this will become the top of the preparation.  Pull open the sides of the crackers package such that with the opening on top you have a makeshift cup.  Now add the peanut butter then a little water.  Stir the crackers in to give it a crunchy pudding consistency.  Add the sugar, hot cocoa, and coffee to give it the taste.  Add more water if needed, my personal preference was to fill it about 3/4 of the way up with water after adding the entire peanut butter package.             ( Thanks G.)
Field Cookie
1 coffee creamer packet
1 packet of sugar
Open both sugar and creamer packet. Add the sugar into the creamer packet, shake it thoroughly, and then fold it up together. Heat the packet over the book of matches until the contents have melted. Let it cool. You should have a caramelized cookie.
Chocolate Icing
1 Cocoa Mix
1 Non-Dairy Creamer
1 Sugar Packet
Stir in small amounts of water until desired consistency is achieved. Spread icing over pound cakes, crackers or nut cakes.
Mousse Pudding
1 Cocoa Mix
1 Creamer
Water
Slowly add water to get desired consistency. Serve.
Coca Mocha
1 packet coca powder base
½ packet instant coffee
8 ounces hot water (1/3 canteen)
Combine everything and mix well

Your Choice Peanut Butter Cookie
Any cookie
½ pack peanut butter
Roasted Nuts or M&Ms
Spread cookie with peanut butter than put on any topping you want
Beef and Mushrooms with Crunchy Potatoes
1 pouch Beef Steak with Mushroom gravy (heated)
1 pouch Potato Sticks
Hot Sauce to taste
Combine Beef and Mushrooms with Hot Sauce then top With broken up pieces of potato sticks
Take a Regular MRE…let's say Beef and Mushrooms
* Heat the main entree (Beef & Mushrooms) for 15-20 minutes. Do this by placing the main entree along with the heater w/appropriate level of water (1/3 cup) and place both entree and heater in card board container the main entree came in., set aside.
*You must heat the package of rice with 2nd heater! Sandwich the rice package with heaters on both sides and place in cardboard container or plastic MRE package and let sit for 15-20 minutes.
.. add hot sauce to main entree
.. add 1/2 packet of salt to main entree
.. mix all in the Main Entree package and remove excess sauce
Place rice on top of paper plate or the exterior of flattened MRE package then cover the rice with main entree.
Take a chicken with salsa MRE…heat up the chicken with salsa, and the rice (cheese too). Crunch up the crackers into little bits, than mix it all up with the chicken with salsa. Also, see if you can snag some Jalapeno cheese to go with it.


Peanut Butter Pound Cake
1 MRE Cocoa Powder packet
1 MRE creamer packet
1 MRE sugar packet
1 MRE Peanut Butter packet
1 MRE Pound cake (vanilla flavor is best, avoid pineapple or orange)
MRE coffee packet (optional)
Begin by slicing the pound cake so that you have two flat pieces. Empty the whole packet of peanut butter onto one piece and set it and the other pound cake half aside. Next, mix up the Chocolate Peanut Butter Pudding (see recipe). If you need the caffeine, then mix in some of the coffee, but not too much. Take this concoction and pour half of it over the piece of pound cake that you've just covered in peanut butter, put the other piece on top, and then pour the other half over it.
Cheesy Spaghetti
MRE Spaghetti with Meat Sauce Entree (heated)
MRE cheese spread (heated)
Heat main meal and cheese spread in same stove for at least 10 minutes. Mix together in main meal pouch. Add Tabasco sauce to taste. Garnish with crushed MRE crackers if desired.

Beef and Dumplings
1 Beef Stew main meal
1 pack MRE crackers
Water
Heat main meal for a minimum of 10 minutes. While cooking, crush crackers, while still in package, into a uniform powder. Open package and add a small amount of water to form pasty dough. Form into dumplings. Add dumplings to hot beef stew. Add Tabasco sauce to taste.

Cafe Mocha
1 pkg instant coffee
1 pkg hot chocolate mix
1 pkg sugar
1 pkg non-dairy creamer
Mix and drink.

Peanut Butter Cups
1 pkg peanut butter
1 pkg cocoa mix
1 pkg sugar
1 pkg creamer
Water
Mix all ingredients together in the Cocoa mix package (or other available package) and only using enough water to get mixture completely mixed (doesn't take much at all) form into cups if desired or use a spoon to eat.
Field Birthday Cake
MRE Pound Cake, NOT the chocolate one…
1 Package of MRE Crackers
1 Pack of dairy creamer
1 Pack of cocoa mix
1 Pack of MRE Sugar
1 Water and a canteen cup with a spoon to mix
1 Book of matches
In the canteen cup mix the cocoa powder, dairy creamer, pack of sugar with some water in a clean canteen cup. Add the various powders as needed to make the icing as thick or thin, as you want. Mix them all together.
Then take the Pound Cake (I prefer anything but the chocolate, the brownie works in a pinch but that's WAY too much chocolate for me) and add the icing on top. Serve the cake on a plate of crackers to prevent drippage. Throw some of the matches on top to act as candles and serve to the birthday-boy / girl.
Pudding Variations
Mix cocoa powder with sugar and non-dairy creamer to make the ordinary stuff. You can add coffee or cappuccino mix to make it mocha pudding. You can also add Peanut butter and it's the stuff. If you add to much water you can probably get a milkshake from someone (they're nasty by themselves) and add it until you get a thick pudding. It doesn't really matter what flavor it is I've mixed strawberry milkshake with it and it tasted good.
Cheesy Jalapeno Beef
Ingredients:
1 main course, Beef and mushroom or some variation of it
1 Jalapeno cheese spread*
1 western beans or 1 rice
1 thing of Hot Sauce
Directions:
Heat everything up except the hot sauce and mix it all together in the MRE bag. It looks a little rough but tastes excellent. *Make sure the cheese is heated well so its easier to mix plus it tastes better. You can mix hot cheese with about any main course and it tastes great

Beef Patty Goulash
Ingredients:
1 Beef Patty (heated)
1 Cracker package
1 Cheese package (heated)
1 Bottle of Tabasco Sauce
1 Package of salt
Directions:
1. Crumble Beef Patty
2. Add cheese package and cracker with patty chunks and mix.
3. Add Tabasco sauce, salt to taste and enjoy.
Peanut Butter Cookie Fun
½ packet Peanut Butter
1 Cookie
1 Spoon Roasted, Shelled Peanuts
Spread Peanut Butter on Cookie and top with nuts.

Peanut Butter Brownie
½ packet Peanut Butter
1 Brownie or (cookie)
1 Spoon Roasted, Shelled Peanuts
¼ Packet any Flavor M&M's
Spread Peanut Butter on Brownie or (Cookie) and decorate with nuts and or M&M's.
Philly Cheese Steak MRE Style
1 pouch meatloaf w Gravy (Heated)
1 pack Cheese Spread
1 pack Wheat Snack bread
Hot Sauce to taste
Combine Meatloaf and Hot Sauce
Place Meatloaf on Bread, top with gravy
Drizzle Cheese Spread on top

Peanut Butter Balls
1 packet Peanut Butter
3 packs Sugar
¾ pouch Crackers, finely crumbled
½ packet Coca Mix
Combine Peanut Butter and Sugar; stir in cracker crumbles, mix well
Shape mixture into 1-inch balls
If needed add few drops of water to make mixture stick together
Roll Balls in Coca Mix
Minestrone Soup Extra Filling
1 pouch Chicken Breast or Beef Steak or Beef Patty (heated)
1 pouch Minestrone Stew (heated)
6 ounces (1/4 canteen cup) hot water
Hot Sauce to taste
Crumble meat and mix all ingredients well.

Open Face Bean Sandwich
1 pouch Western beans (heated)
1 pouch Wheat Snack bread
1 packet Cheese Spread
Hot Sauce to taste
Combine Beans and Hot Sauce, spread on Bread
Drizzle with Cheese
Thank you for taking the time to look through these MRE recipes. I hope they may be useful to you. Enjoy!