Special Event: The Magic Flow Bus presented by Tone Floreal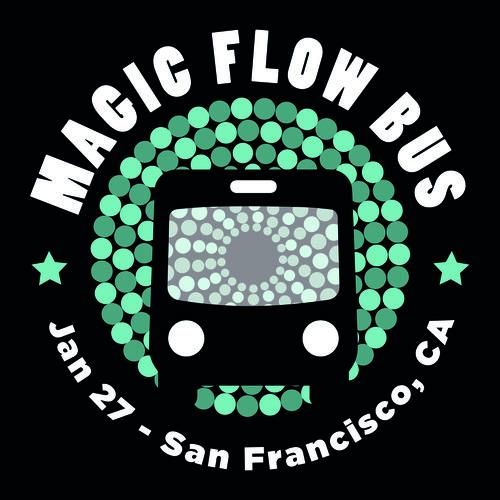 Imagine an adult field trip where you can be blasted "sky high" without the use of drugs and alcohol.
A full day and night jammed-packed with the most bad-ass activities, kick it with the kindest human beings and special guests, eating delicious brain-rocking food, dancing to the illest dopest music and access the coolest cutting-edge learning and bio-technologies the top peak performers of the world use — all while being guided by a professional team, including medical doctors, veterans, athletes, coaches and executives – well-versed in the non-ordinary consciousness state known as FLOW.
The Magic Flow Bus is for people who of are tired of getting f#cked up on weekends to escape their lives. It's for those who want a "healthover" instead of a horrible hangover — while playing with other flow-minded peeps.
Our mission is to provide you a safe space that will "health the eff out of you" so that you become so "clear and charged" in your own vision for an incredible life, striving for constant improvement and progress, while providing you the tools and support to live life unimpeded by prior fears, past self-defeating and self-destructive old programs.
* events are subject to change *
Meet and Greet, Coffee and Tea
Body Scan, Breathing Practices, Yoga, Mindfulness Meditation
Tai Chi

Wim Hof Breathing & Cold Plunge

Kettlebell Partner Passing and Juggling

Bus Ride and Lunch
Biohacking Technologies, i.e. HBOT, Microcurrent, Neurofeedback, HRV, Heartmath, Near-Infrared Lamp, Intramuscular Injections, BEMER, etc.
Educational Lectures
Food & Flow – Dinner & Conversations

Music
Closing Circle
Afterparty (optional)
We will then give you the tools to re-integrate your new superpowers into everyday life.
And a very special invitation to have dinner with Dr. Dan Engle…
"Dr. Dan" is a psychiatrist and neurologist, who combines functional medicine with integrative psychiatry to enhance regenerative health and peak performance. His prior and relevant experience includes traumatic brain injury (TBI) and working in the Peruvian jungle with plant medicines such as ayahuasca.