TALES FROM THE BLAST FACTORY: LESSON 5 – The Mirror Test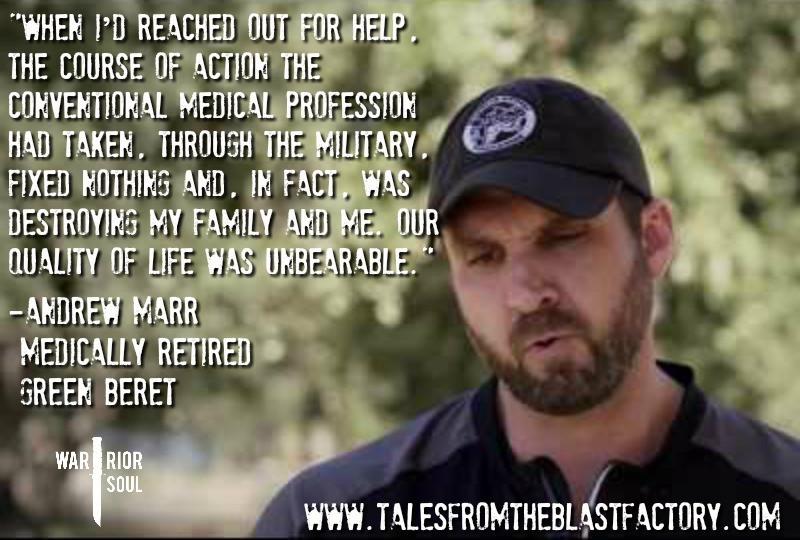 Andrew Marr is a medically retired Special Forces Green Beret who's suffering with Traumatic Brain Injury and subsequent recovery through the help of Dr. Mark Gordon led him to start the Warrior Angels Foundation. The Foundation's goal is to help other veterans alleviate their TBI symptoms through hormone and nutrition replenishment. Andrew's book, Tales from the Blast Factory: A Brain Injured Special Forces Green Beret Back from the Brink  came out in 2018. Andrew is also currently working along with Emmy award-winning producer Jerri Sher to produce Quiet Explosions, a documentary about the groundbreaking solution that led to his recovery. INSTALLMENT 5: THE MIRROR TEST
I've previously written on the importance of having a Standard of Performance (SOP). A SOP serves as a pre-planned blue print to answer the difficult questions that life presents us, to help one to contribute and perform to the best of one's abilities. I would not be alive today had I not had a SOP in place prior to all the fallouts from my traumatic brain injuries.
I have since added "My Ideal Self" in support of my SOP. Every morning I sit and meditate on
becoming that man with the agreement that I won't get up until I have become my ideal self.
My Ideal Self
I am certain, I live in a peak state of purpose and fulfillment realized in the love and gratitude found in contributing and performing to the best of my abilities in the service of others. Every thought, emotion, action, and means of communication serves to elevate myself and everyone I come in contact with. I earn it every day. Of this, I am certain!
My day starts with setting the intention to reach one step closer to achieve what I've designated as ideal for my life. I end the day by putting myself through the mirror test.
The mirror test serves as a review of the day against the back drop of my ideal self. It's a process where identify how I stacked up compared to that ideal. I count it a win when my actions are in accordance with my ideal self. I can then determine what I need to do to sustain or improve that area of my life. If I come up short, and in some cases way short that's a positive as well. That tells me that I need to make better decisions to drive better outcomes. This allows me to go to bed knowing I've closed those loops in my mind and I have a clearly identified next action to ensure I'm continually moving in the right direction. Adding these two simple techniques has made for a profound improvement in my overall quality of life.
My Mirror Test
I am certain, If I died tonight…
I will look myself in the mirror and know
I learned, grew, served, and loved to the best of my abilities
I left it all out there and,
I AM READY.
How much positive change could be created if we all had a process to improve just one tenth of one percent every day? The process of starting the day with a clear intent and ending it with a mental review can make all the difference in the world.
More details appear in TALES FROM THE BLAST FACTORY: A Brain Injured Special Forces Green Beret's Journey Back From The Brink. These lessons we're paid for in blood, it is my honor to give them to you. What I once thought was the worst thing in my life is now the best thing in my life, it can be the same for you. Check out our Tales From the Blast Factory site here or you can order your copy on Amazon here.