The Beautiful Life of an Active Hero: Warrior Soul Remembers Justin Fitch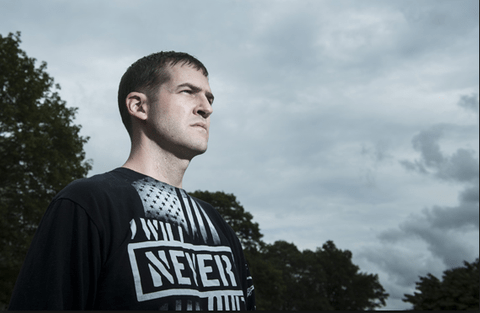 When I first started Warrior Soul, I heard of a man named Justin Fitch.  This man was a remarkable human being who was suffering from stage four cancer, but who was dedicating the final months of his life to ending veteran suicide.  I never had the chance to meet Justin in person, but he impacted me so much with his message.  Justin passed away early this morning.  In his honor, I am posting the original blog I wrote about him last year.  Justin lived on for many more months than expected, and I thank God for it.  RIP Justin Fitch.  God willing, we will see you at the pearly gates.
As human beings we are both blessed and cursed with the gift of consciousness. The blessing comes because we know and understand how to give life extra meaning through love and happiness. The curse comes because we are also aware that life is not always kind, and that our happiness can be taken away at any moment. Just as every happy moment enriches our lives, every sad moment takes its toll, making us feel fear and the desire to retreat to what we know and what is comfortable to us. The big problem is that fear can often take over and keep us in our comfort zones, never seeking to change our lives or make them better for fear of failure.
What if I told you that there is one reason why you should not fear pursuing anything in this life, and that you already know what this reason is? That reason is that all of us are on limited time on this Earth. Every single person living today faces the same fate, whether they be a rich and famous celebrity, or a poor and impoverished person in a third world country. Yes this is morbid, but it is also liberating. It means that you have nothing to lose by facing your fears, pursuing your dreams, and living the best life that you can.
I spoke to a man named Justin Fitch over the phone the other day. Justin is a US Army Captain in the final stages of colon cancer. It is likely that he will not live past the winter. He was receiving his chemotherapy treatments while I was speaking to him, and he was groggy and seemed to be in a lot of pain. Justin served two combat tours in Iraq before he came home and found out he had his disease. He could have retreated to his comfort zone, existing in his box and enjoying life's small pleasures until his last days. Justin did not do that. He saw a bigger problem. You see, 22 veterans commit suicide every day, which adds up to over 8000 veterans a year taking their own lives. Most of them are under the age of 35. We are losing veterans as a faster rate than we lost members of our military during the wars in Iraq and Afghanistan. Justin has raised close to $60, 000 to help fight veteran suicide through Active Heroes (https://fundraise.activeheroes.org/fundraise?fcid=258833).
We can all sit here and feel sorry for Justin and everything he is going through with his disease. This is our natural tendency to project our own fear of death onto someone else. While I keep Justin in my prayers everyday with the hope that he does defeat his cancer, I do not feel sorry for him. I cannot. Justin has made the choice to live with direction until his final days. Whether he passes in a few months or many years from now, that is more than most people will do in a much longer lifetime.
Justin's message is powerful because it liberates us. If a man with very limited time on this Earth can find meaning and purpose in this life, the rest of us have no excuse to fear anything. The pursuit of a meaningful life is a choice. You do not have to be rich or powerful to do it, and you do not even need to be completely healthy. You merely need to put your fears aside and do something. You need to decide that you will not merely exist, and that you will begin to live.
Should you wish to help Justin in his battle against veteran suicide, please go to this link and donate: (https://fundraise.activeheroes.org/fundraise?fcid=258833). Every dollar helps.