The YouTube Channel that Changed My Life: London Real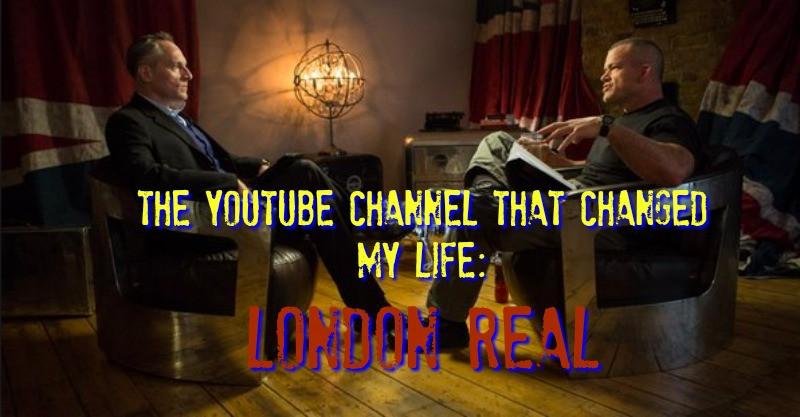 Other than being a member of the London Real Academy and a graduate of the London Real Business Accelerator, I have no professional involvement with London Real.  I have not received any endorsements or monetary compensation for writing this review.  As with anything I put on this blog, I wrote this because I think it could help veterans and anyone else who reads this blog.  (Headline Picture: Brian Rose interviewing former Navy Seal Commander, Jocko Willink).
I remember what my life was like a year ago.  I would wake up with every ambition to accomplish something meaningful that day.  My morning would begin strong, and fueled by caffeine, I would roll through my daily tasks as an online trainer.  But when it came to the time of day to work on my true passion, building my new clothing line for US military veterans, a deep malaise would set in.  I would find myself staring aimlessly at my computer screen for hours, hoping and sometimes praying that an idea would magically come into my head.  My day would end with an irritable uneasiness, as if I'd failed myself, and I'd find myself staring at the ceiling of my bedroom all night.  

I was a successful online trainer.  I had money and I had a roof over my head . . . for which I was extremely grateful.  But there was something eating at my soul.  It was the knowledge that I was existing in comfort but at the same time pulling myself further and further from being who I truly wanted to be.  My dream was to build my brand and help veterans, not to be a trainer, and I was killing that dream and my soul with the most sinister obstacle I'd ever faced: my own resistance to taking meaningful action.  

The life of a solo entrepreneur is one of the hardest experiences I've ever endured.  My experience in Marine Corps Boot Camp pails in comparison to the stresses I've encountered through my entrepreneurial journey, and the constant screaming and yelling of my Drill Instructors could not hold a candle to how I've torn myself apart in my own mind on a daily basis.  While I take nothing away from anyone who served in combat, I have to say that even deployment was easier because it had a set end date.  

The road to success as an entrepreneur has no end.  It is a constant battle and your most formidable enemy is one that you cannot get away from because it's the person staring back at you in the mirror.  What makes this worse is that you are also your greatest asset, and unless you figure out how to become self-dependent, you are doomed to failure.  

As with anything difficult that I've done, however, the entrepreneurial experience also holds great rewards.  Even though I'm not wealthy, I make my own schedule, live on my own terms, and I can work from anywhere in the world.  But to live this life, you need to be on a constant quest for knowledge to help you survive, and more importantly, to help you expand and implement your vision.  If you are a genuinely humble person with very thick skin, and you are able to adapt to new information, then you have a chance.  If you're pig headed and resistant to change, then avoid this line of work because it will kill you.  

Today, Warrior Soul Apparel has grown into a solid brand and it has gone from a small side project and into becoming a true contender for market share in the military apparel space.  I did not do this alone, however.  I had some of the greatest business minds in the world advising me.  No I did not have to pay hundreds of thousands of dollars, or sacrifice equity in my company.  I simply watched a show called London Real.  

Starting the Journey

Four years ago, after a series of really difficult life events while suffering from a severe case of ulcerative colitis, I could no longer work as a personal trainer and I lost ownership over my gym business.  With little money, I became homeless and relied on my 2007 Ford Focus, the local Starbucks, public restrooms, and my local gym's shower for basic life necessities.  After a month or so, a couple of close friends from my gym, Liz and Thad, took me in temporarily.  With a roof finally over my head, I set out to become an ex-homeless person.

Another friend who helped was Mike Rashid, an internationally known fitness personality.  He gave me a laptop and suggested that I try online training.  Having had Mike, and other well-known athletes as my clients years before gave me a good bit of credibility and getting the word out about my services was not hard.  

Before I knew it, I had over 100 online clients from around the world, and I made the money I needed to move into a rented room.  Eventually, I was making more money than I ever had in my life, but something was missing.  

Watching the news at the time I kept hearing reports about veterans committing suicide.  Then I got news of marines from my former unit in very bad life situations.  The overwhelming feeling was one of guilt.  I had pulled myself out of a very bad situation and I had a story that could give hope to so many veterans, but I was spending my life staring at nutrition spread sheets and helping people get abs.  

Though I think fitness is a great life calling, and I do believe in helping others, I could only handle a certain number of clients and the more clients I took on, the less I felt like I was actually helping them.  I still train a small number of people to this day, but I do this as a hobby for select clients whom I believe I can truly help.  

Back to the story: I decided to start to pull back from my fitness business and begin working on something to help veterans.  

I had some connections with a fellow marine corps veteran who owned a tee shirt printing company up in Santa Barbara, and we set up a deal where he would print, store, and fulfill orders for me.  I quickly set up my web site and before I knew it I was in business.  

In those first few weeks, I constantly logged in to check my sales, but nothing was happening.  The weeks dragged on into months and then, in my first year in business, we sold a heart breaking $800 worth of merchandise.  

I would like to say that I did everything I could to fix where I'd gone wrong, but I didn't.  Every time I began to put work into Warrior Soul, I would sink back into a hole.  I knew how to market my services as a trainer through word of mouth, but I knew nothing about how to break into a new market.  

Then there was the voice inside of my head.  The evil voice of resistance.  It said, "why are you working on this?  It's not making you any money.  Stop doing this and get more fitness clients.  Let's post an ab shot on Instagram . . . "  

My activity level on Warrior Soul declined rapidly, my fitness client list grew, and before I knew it I was spending less than an hour a day working on my dream and I was back to being a full time online trainer.  

Rediscovering London Real

Ok, let's rewind this story a bit . . .

One day, around three years ago just after I'd moved out of my Ford, I was doing research on mobility exercises I could give my clients, and I came across London Real.  Though the show was centered in London, the host, Brian Rose, was an American who looked to me like he was one of those guys who walked around in Affliction shirts all the time (I'm one of these guys, so I totally related).  This episode was an interview with Kelly Starrett, author of Becoming the Supple Leopard and creator of the Mobility Wod. The interview was really interesting, so I looked through some of his other videos and found an amazing interview with Dorian Yates, one of the greatest bodybuilders of all time.

At the time, this was momentary entertainment that was helping me procrastinate, and I didn't watch another London Real episode for many months, but little did I know that the show I was watching would change my life one day.  

Fast forward:

It's one year later and I'm back to where I was at the beginning of this blog, staring at my computer screen and ready to lose my mind.  As many of us do when we feel resistance, I once again sought out entertainment.  But I thought, if I'm going for entertainment, it might as well be educational.  

I remembered that show with the American guy in London. I got lots of inspiration from that Kelly Starrett interview, so I thought I'd find some more by checking the show out again.  By remembering that the show was in London, I remembered that it was called London Real.  When I got to the site and picked a video, I found that the American host now looked very different.  He looked scared and a bit awkward.  He traded in his mix of Affliction shirts and cargo pants for a suit, and he was standing outside of a castle talking about some crazy rich guy named Dan Pena that he was going to have a standoff with.  It sounded like entertainment to me, so I paused it, made myself a cup of coffee, and watched.

What I saw over the next couple of hours blew my mind.  Dan, who's graciously done an interview for this blog before, is an extremely successful business performance coach who's helped his students generate over 50 billion dollars in capital to start their own business ventures. He's also a bit intimidating for many people and is known for making at least one high level executive lose control of his bowels during a seminar.  That's probably why Brian looked so fearful.  From what I gathered, Brian had Dan on his show earlier in the year, and Dan poked at him a bit asking Brian what he was doing with his life.  Though Brian was a bit offended, Dan made him think.  Dan invited Brian to one of his seminars, and that's why Brian was standing outside of the castle looking like he was about be forced to storm the beaches of Normandy with a pocket knife.

What blew my mind was not the back story, and it wasn't the interview Brian did with Dan Pena.  It was the way in which Brian changed during that show.  He went from seeming a bit unsure about himself or his identity to exuding confidence and purpose in what he was doing.  I continued to watch London Real after that on a weekly basis, and with each show, Brian seemed a little more mature and way more confident.  He changed, and then his set changed from what looked like a London bachelor pad to an elaborately decorated studio.  Brian was taking action to make his life and his business better, and I wanted to do the same.
I watched London Real regularly after that, and each show I watched inspired me with ideas that carry over into my business to this day.  I learned about the power of good content from Alex Ikonn, the founder of Luxy Hair, which sells millions of dollars in product each year without trying to sell anything with their YouTube hair tutorials.  London Real introduced me to Ben Greenfield, through whom I became certified as a Superhuman Coach and from whom I also learned about content marketing.  I was also inspired on a weekly basis with other consistently outstanding guests, each of whom had their own honest and very real story about how they became successful.

The true beauty of London Real for me was this, Brian is not a guru or someone who claims he knows everything.  Brian is a fellow traveler who fully admits to his ups and downs in life and who seeks out other travelers.  The guests he has on are not necessarily A list celebrities.  They are people who've also travelled this same road.  If you watch the show, you'll hear from millionaires who openly admit to sleeping on couches or being homeless when they got their start.  You'll hear from artists who couldn't get anyone to even glance at their work.  And you'll hear about Brian, when he couldn't even get his family members to like his Facebook page.  

Then you'll hear the story of how they all came out of it, fought through the resistance, and triumphed despite what sometimes was immense difficulty and pain in pursuing their passions.  It was hearing these stories that motivated me to get out of my hole, crack my knuckles, and begin fighting resistance.

This amazing variety of guests also allows you to pick and choose what methods you want to follow and which ones you do not.  As such, in addition to being good media, watching London Real is like gaining true liberal arts education, but from real "in the trenches" personalities rather than professors with patches on their elbows.


The London Real Academy

Given the quality benefits that London Real had already given me with its free content, it was not a hard decision for me to join the London Real Academy as soon as it started. The Academy extends the London Real experience beyond the interview with a social network of just under 1000 London "Realers."

Through this network, fans of the show connect with each other and keep each other accountable on their journeys.  When you join, you get assigned an accountability buddy.  Mine is named Keiran, and he lives in Australia.  We meet periodically to bounce ideas off of each other, form goals that we have to meet by the next meeting, and motivate each other to succeed.  This immediately had an impact on Warrior Soul as I doubled it's revenue each month for the first three months I was in the Academy.  

In addition to the network, Brian and some of his distinguished guests also host webinars on subjects like money management, dressing for success, starting a YouTube channel, finding mentors, and getting fit.  There is something there for everyone.  It was through these webinars that I found the teachings of Daniel Priestley, the author of Key Person of Influence.  Because of Daniel's influence, Warrior Soul is widely recognized for it's rich content and I am recognized for my own expertise in helping my followers to break their boundaries to achieve success.  

If London Real's impact on me stopped at my membership in the Academy, I would still have many success stories to write in this blog, but it has gone far beyond this.  When I heard that Brian was offering a business accelerator course to ten Academy members, I immediately jumped at the chance.  

The Business Accelerator

In mid December of last year, I was in the midst of my most successful month as owner of Warrior Soul.  My fear, however, was that this month was a fluke because of the holiday sales spikes.  When I got the email calling for Academy members to send in applications for the business accelerator, I knew that I had to be in that group.  But I also felt resistance once again.  This time, it was resistance out of fear.  It said, "you wouldn't belong in group like that.  This month is a fluke and this business isn't worth investing in.  You're just going to make a fool out of yourself.  Let's go to the gym and take some video of you doing a max bench press. . . "

Finally, I brought myself to just fill out the application to see what would happen.  I paused with baited breath for a second before I hit the submit button.  A week later I found out that I had been accepted to the program, and I made the decision to put my faith in Brian and his team.  

We began working two weeks later and I immediately found that my faith had been rewarded.  The business accelerator forced me to think about my business in ways I never thought about before, and it taught me solutions to problems I'd been trying to figure out answers to for years.  

After years of owning websites, I finally learned how to build a landing page, how to build email lists, and above all, how to learn about my customers in ways that allowed me to communicate with them positively and effectively.  I'd always been big on creating a social media following since my fitness days, but this course helped me to grow Warrior Soul's social media accounts exponentially.  I'm talking up to 1,000 new followers per week on Instagram, and 300 or more new followers a week on Twitter.  

The on paper result of the Business Accelerator course was this: I cut my ad spending to a quarter of what it was and had a record month of sales in February.  The more important result of the Business Acclerator for me was this: I am more confident, more driven, more knowledgeable, and most of all, more resilient.  I now have the tools I need to turn things around during slow business, and to keep my business growing beyond anything I ever thought possible.  

I'm not going to lie, this course was expensive for me, and paying for it put me in a tight spot.  But knowing what I know now, I would have gladly paid double or triple for what the business accelerator has given me.

If you hang around the Academy long enough, you'll hear people talking about "smelling the leather."  This is the idea doing things like going to Rolls Royce dealerships and test driving cars to smell the leather and know what it's like to be rich.  

Smelling the leather is an extremely useful way of visualizing your success and making the possibility real, but I believe that there is something more important that I got from the Business Accelerator – It's taught me to smell success.  It is no longer a dream for me to be successful, it is an addiction.  You can do all the mindfulness and meditation in the world, but if you are not obsessed with having a successful business, you will not succeed.  To become obsessed, you actually have to have the feeling and taste it.  The Business Accelerator gave me my first taste.
That doesn't mean I'm wealthy right now.  I'm not by a long shot.  But I know that if I keep implementing what I learned in the Business Accelerator, more success will continue to come, and along with it, the ability to permanently live the life that I want to lead and to be who I want to be.  

Conclusion

In my writings and videos, I always tell people to be happy for their problems as they are your greatest teachers.  My major problem, for a long time, was resistance, and yes I'm thankful for it. Understanding and admitting that I had resistance forced me to get to know myself.  But resistance itself also gave me a gift: London Real and the London Real Academy.  

As with anything, sometimes you just need to work through resistance while keeping your eye on your vision. This process can be both difficult, demoralizing, and lonely, but you're not alone.  Anyone who's ever tried to do anything significant in their lives has faced it.  

If you're currently in the same state I was in at the beginning of this blog, try this: give yourself permission to take an hour for yourself.  Make yourself a cup of tea or coffee, and check out London Real.  It may open up a whole new world for you, and this moment could be the beginning of an amazing journey and a new chapter in your own story.  

Travel Well!

Chris