Warrior Recipes: Maple Bacon Pumpkin Cheesecake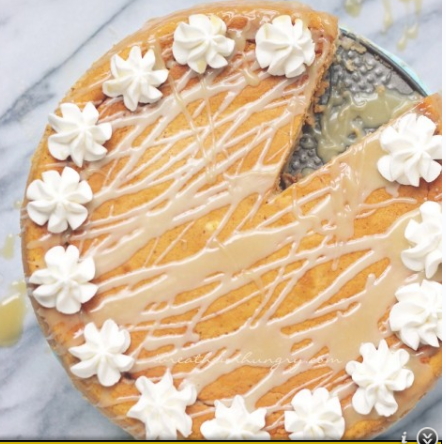 I love Thanksgiving and I love dessert. But having a gluten intolerance with a severe case of ulcerative colitis means that I often have to skip dessert. But fuck that. Not this year. This year I'm baking one of these bad boys.  I got this recipe from IBreatheImHungry.com.  While that might not seem very manly, this dessert contains bacon, which negates all feminine connotations associated with counting carbs.  INGREDIENTSFor the crust:
For the filling:
32 oz (4 bars) cream cheese, softened
1 cup Swerve sweetener
3 eggs
1 can unsweetened pumpkin puree (or 15oz homemade)
⅓ cup heavy whipping cream
½ tsp caramel flavoring see example
1 tsp vanilla extract
½ tsp ground ginger
½ tsp ground cloves
½ tsp ground nutmeg
1 tsp ground cinnamon
For the white chocolate caramel:
⅓ cup raw cacao butter see example
2 Tbsp heavy whipping cream
2 Tbsp Swerve sweetener
½ tsp vanilla extract
INSTRUCTIONSTo make the crust:
Combine the melted butter, Swerve, almond flour, maple flavoring, bacon and pinch of salt in a medium bowl. Mix thoroughly. Press into a 10″ springform pan to a depth of about ¼ inch along the bottom and ⅓ up the sides. Bake in a preheated oven at 350 degrees (F) for 6 minutes to firm up before filling.To make the cheesecake filling:
Put a large pot of water on to boil for your water bath. Then, in a large bowl, beat the cream cheese and sweetener with an electric mixer until fluffy. Add the eggs, pumpkin, and heavy whipping cream and beat for 2 minutes. Add the vanilla, caramel, spices, and protein powder and beat until fluffy (about 2 more minutes.) Pour into the springform pan lined with the pre-baked crust and smooth with a spatula. Place the springform pan inside a larger pan and place on the middle rack in your oven. Carefully pour boiling water into the larger pan until it's about halfway up the sides of your springform pan. Bake at 350 degrees (F) for one hour. Then shut off the oven (leave the door shut) and leave it in there for another hour. Remove carefully from the oven and chill for at least four hours, preferably overnight before drizzling with caramel and serving.To make the white chocolate caramel sauce:
In a small microwave safe bowl, combine the raw cacao, heavy whipping cream, Swerve, and vanilla extract. Microwave for one minute. Remove and stir. Microwave for another minute. Remove and stir. Microwave for 30 seconds. Remove and stir. It should be light golden brown at this point, if not microwave for another 30 seconds. Alternatively you could heat this on the stove until golden and bubbling. Let it cool until slightly thickened (3-5 minutes) then drizzle over the cheesecake before serving.
NOTESApprox nutrition info per slice: 381 calories, 36g fat, 4g net carbs, 9g protein