Okinawa Taco Rice and Cheese: Marine Corps Memories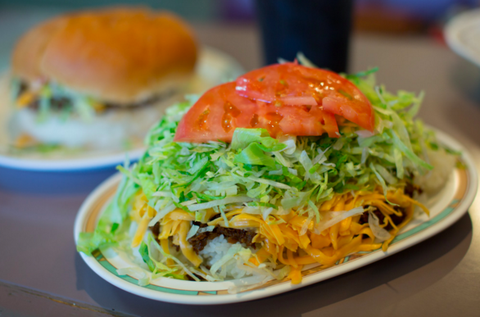 Disclaimer: In my current life, I work as a personal trainer and fitness coach.  I'm known for giving people healthy recipes.  THIS IS NOT ONE OF THOSE RECIPES.
Ah Okinawa.  When people normally think of this south Pacific Japanese island they think of people with longer than average life spans, tropical paradise, and the Karate Kid.  When marines think of Okinawa, they think of Gate 2 Street, Kinville, diarrhea in the Northern Training Area, Habu Sake, and the constant fuckery that is the existence of a marine stationed in a country that does not want him there and he has no desire to be in.  I can't say I miss Okinawa one bit, but I do miss taco rice and cheese.
Yeah, I'm just gonna throw this out there.
For years after I left the corps, I tried to make this on my own, but something was just not right.  It just didn't have that "I know this was not made under sanitary conditions but I'm gonna eat it anyway because it's delicious and I'm drunk" kinda feel to it.  So I got to searching around on the internet and I finally found a recipe that worked from food.com.
It turns out, there were two things I was doing wrong.  First, I made the mistake of using higher quality beef.  Normally I eat grassfed ethically sourced beef.  Not for this recipe bitches.  To get it right, you need to use the cheap 80/20 beef that comes in a tube.  Second, I missed that key ancient secret ingredient that I'm pretty sure the Okinawans only give to foreign occupiers whom they want to have shorter life spans than they do: MSG.  Yeah, you're one step closer to the glorious experience of open heart surgery at your local VA Hospital if you eat this dish, but fuck it – yolo.  Best drunk food/hangover relief ever (though I've been sober for years).
Ingredients:

2lbs 80% lean ground beef (80/20, the cheapest meat you can find in a tube)
1 1⁄2 ounces mccormick mild taco seasoning
1⁄4 cup old el paso original taco seasoning mix
1 1⁄2 teaspoons mono sodium glutamate (MSG) – it seriously will not taste the same if you don't use this.
2 cups white rice (uncooked)
5 1⁄2 cups water
1lb shredded mild cheddar cheese (large shreds, find the one that looks like government cheese)
Directions:

Put the white rice and four cups of water in the rice cooker, add 1 teaspoon of MSG, stir and cook.
Brown the ground chuck, drain most but not all the grease.
Mix the two types of taco seasoning in a bowl with 1 1/2 cups of water, add 1/2 teaspoon of MSG, stir and pour over ground beef. Simmer for five minutes.
Place steamed rice in large casserole pan, spread taco meat over rice, top with cheese.
Serve on paper plate with plastic spoon for full effect. Top with favorite hot sauce.