Profile: From Afghanistan to a Congressional Race: Paul Chabot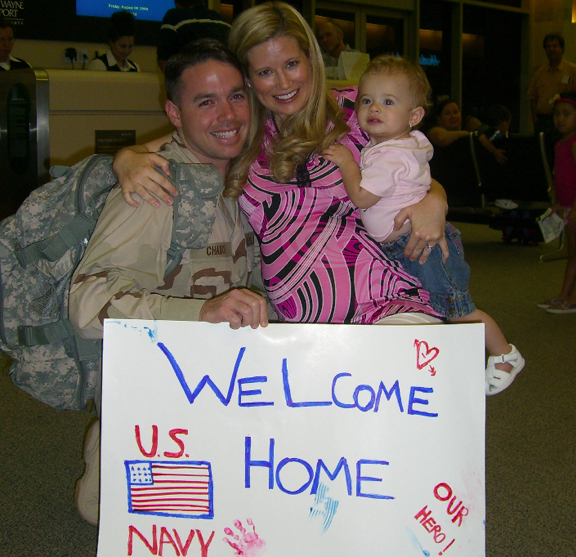 Our main mission here at Warrior Soul is to get veterans to live better lives. As part of this mission, we will be profiling successful veterans each week.  We will be exploring the lives of many different veterans with very different backgrounds, beliefs, and career paths.
This week, we have author, terrorism expert, naval intelligence officer, San Bernardino County Reserve Sheriff's Deputy, and congressional candidate, Paul Chabot.  Paul is a veteran of Operation Iraqi Freedom having served in 2008.  He also holds a doctorate of education from the George Washington University and has written extensively on counter terrorism matters.  He has also served as White House Senior Policy Advisor for two presidents and is currently running as a Republican for the US House of Representatives in California's 31st District.
Regardless of your political beliefs, you can learn a lot from Paul.  He is a no nonsense person who stands steadfastly for his values and has translated his military discipline to every aspect of his life.  Given that he is currently a candidate , we also explored his stance on several key issues relating to veterans.  Though Paul is a friend, we at Warrior Soul Apparel do not affiliate ourselves with any political party or candidate, so do not confuse this with any sort of political endorsement.  That being said, Paul is a veteran who's done some pretty rad things with his life.  If you know of other veterans who we should interview, please feel free to send us suggestions at info@warriorsoulapparel.com.
Name: Paul Chabot

Service and Deployment History:
United States Naval Reserve Officer, Active Reserve 2001 to current.
Active Duty:
United States Naval Intelligence Officer, Deployed to Iraq 2008

Favorite MRE:
crackers with jelly

What have you done since your service?:
I am currently running for United States Congress.  Today, we have the lowest number of Veterans serving in Congress since pre WWII. I believe more Vets in Congress is great for America.

How did you come to this path?
I love my country.  Running for office should really encompass the same reason one joins the military – to fight for America.

What role has your military experience played in your success?
Without a doubt, the military builds leaders.  We learn how to take command and take orders. We learn how to work as a team and often get by with little.

What is your daily routine like?
It's pretty busy being a candidate for congress. Most of my day is spend meeting with local voters at neighborhood events, or taking phone calls.  The typical day lasts about 12-hours.

What success tips would you give to young veterans as they enter civilian life?
To never ever ever give up. Life with throw you curve-balls – don't let those throw you off course.  Don't be afraid to fail – we all do – learn from failure and understand that everything in life happens for a reason. Challenge people who are wrong – commend those who are right. Take a stand. Live by the same set of high moral military values and you will do just fine.

What is the best piece of advice you've ever been given?
When in doubt – leave it in God's hands. Who are we to say where we are going to be tomorrow, or what job we will have. Keep your heart as pure as possible and always do what's right, no matter the cost.

If you could go back and talk to the 20 year old Paul Chabot, what would you say to him?
Stay the course – you are on the right path.

Given that you are currently a candidate, I also want to ask you a couple of more questions than I normally would:

What would you do to encourage veteran entrepreneurship in this country?
I would encourage Vets to utilize existing programs that help Vets become small business owners – yet, there is much work to be done because red-tape exists is most Federal programs.  Look at using your GI bill for loan-collateral if you are on your way to stating a business. A recent bill was passed in Congress that will make this a reality soon. However, be careful – do so only if you don't plan on using the GI bill, and don't have kids who could use it. Take a look at the Entrepreneurial Boot-camp for Veterans with Disabilities – a solid private sector program to help disabled vets become small business owners.  

Given the horrendous rate of veteran suicides in this country, what do you think our government can do better to end this plague?
The VA needs fixed – many vets get frustrated with long wait times for care, or long wait times for claims. We also need to make sure that every Vet who rolls of Active Duty has a battle-buddy in the civilian world. Ensure that Vets can find stable work that pays well. Too many are unemployed.  Let's create a massive media PR campaign to discuss Vet suicide and get it more out in the open.

Given your experience as a counter terrorism expert, what can our government be doing better to defeat global terrorism?
I honestly think we won't see much progress in this area until after 2016. We need new leadership in America. ISIS is in 16-countries and growing. Our enemies don't fear us and our allies don't trust us. We need boots on the ground with the Kurds fighting ISIS. The current U.S strategy is failing – You cannot win a war from the air alone.
As a member of the law enforcement community, do you believe that restricting guns is the answer to lowering crime rates?
I fully support the 2nd Amendment and I do not believe restricting guns from law abiding American's is lawful or the right thing to do. We must get guns out of the hands of criminals. I support carry-concealed for all law abiding citizens. I also support 10-year mandatory sentences for any criminal in possession of gun during any crime, including petty theft.