SHAMELESS: The Media's Report of Cop Killer Gavin Long Having PTSD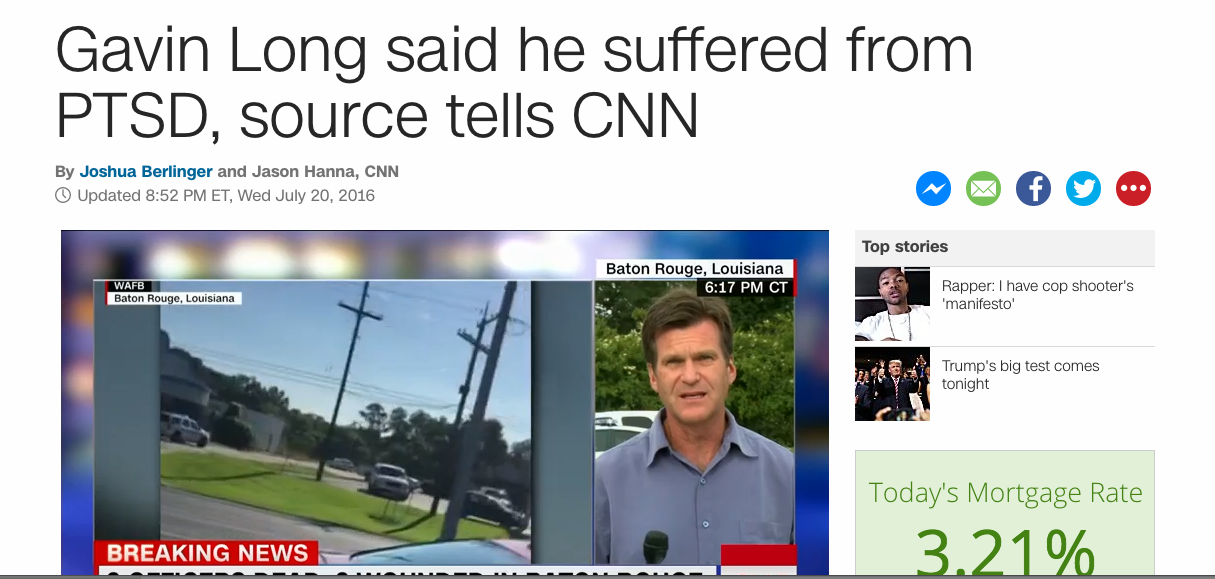 The term scapegoat is derived from an ancient Jewish tradition.  Each year on Yom Kippur, the high priest would lay the sins of his people on a goat, and then send that goat into the wilderness so his people could start anew free of sin.

Today, the term scapegoat has a different meaning: a person or group made to bear the blame for others or to suffer in their place.

A few days ago, Gavin Long, an ex United States Marine, mercilessly gunned down three members of the Baton Rouge Police Department: Montell Jackson, Brad Garafola, and Matthew Gerald.  I say that Long is an EX Marine because anyone who does something like this ceases to be a Marine, at least in my mind. You can correct me if you want. I don't care.

These police officers, and those killed in Dallas the week before, had nothing to do with police brutality or the killing of anyone. They were there to serve and protect their communities, and they were gunned down in cold blood.  

When I heard that Long, and Micah Johnson, his counterpart who killed the officers in Dallas were veterans, I knew it was coming.  

This morning, CNN reported that Gavin Long suffered from PTSD.

Let's entertain this absurd notion for a second.  Let's see what Gavin Long did in the Marine Corps.  Here we go, he was an 0651 – Cyber Network Operator.  

Here's the job description:

Cyber Network Operator is the latest term for what the Marine Corps formerly called data network specialists. These marines are responsible for the installation, configuration, and management of data network or cyber systems in both a stand-alone and client-server environments, including MS Exchange, Defense Message Systems, and other authorized data network systems.
According to the Military Occupational Specialty (MOS) manual, cyber network operators install, configure and maintain cyber services, for both hardware and software. In addition, they also integrate multiple information systems to include Data Distribution System-Replacement/ Modular (DDS-R/M), in a network environment.


Now, regardless of what your job is or was in any military service, I want you to understand that I am not trying to degrade your service here. I realize that there are many of you outside of the combat arms who probably did put your lives on the line, and many of you who did see combat. I am no one to talk. I never fired a shot in battle, nor did I get fired upon, and I was in the infantry. But let's check Mr. Long's ribbons.

Marine Corps Good Conduct Medal;
Iraq Campaign Medal;
Sea Service Deployment Ribbon (3rd Award);
Global War on Terrorism Service Medal;
National Defense Service Medal;
Navy Unit Commendation Medal

We see an Iraq Campaign Medal here, which "was awarded to any member of the U.S. military who performed duty within the borders of Iraq (or its territorial waters) for a period of thirty consecutive days or sixty non-consecutive days." Ok, so he was in Iraq.  But what do we not see here: a Combat Action Ribbon.

Mr. Long saw no combat, and I can't imagine how he would have gotten anything more than a paper cut given his job description.  Again, that is not to down talk anyone in the 0651 MOS field or any other MOS for that matter, but it is to say something else: whoever reported this is uneducated and irresponsible.

There are thousands of veterans who currently suffer from post traumatic stress. Many of them live highly productive lives and many of them are struggling. But very few of them have ever committed a violent crime.  All this has done is to increase the stigma under which these veterans must live.

Additionally, it's given society a new scapegoat. It's not politically correct to say that there is a hateful ideology encouraging violence against police officers these days. So yeah, it had to be PTS.  

That is bullshit.


What is the danger here?

For veterans there is a big danger.  We are among the biggest supporters of Second Amendment rights. Attaching PTS to attacks like this feeds into the idea that veterans with PTS could be prevented from owning firearms, a constitutional right. It could also potentially prevent veterans from getting jobs as first responders. It also feeds into a false stigma that we have been dealing with for the past decade. A stigma that the thousands of veterans in this country who are pushing to live their best lives do not need.
I hope that anyone who does read this understands that Gavin Long did not kill innocent police officers because of his "PTSD." He murdered them because he was a piece of shit.