Episode 24: How Fish Oil Could Save Your Brain with Dr. Michael Lewis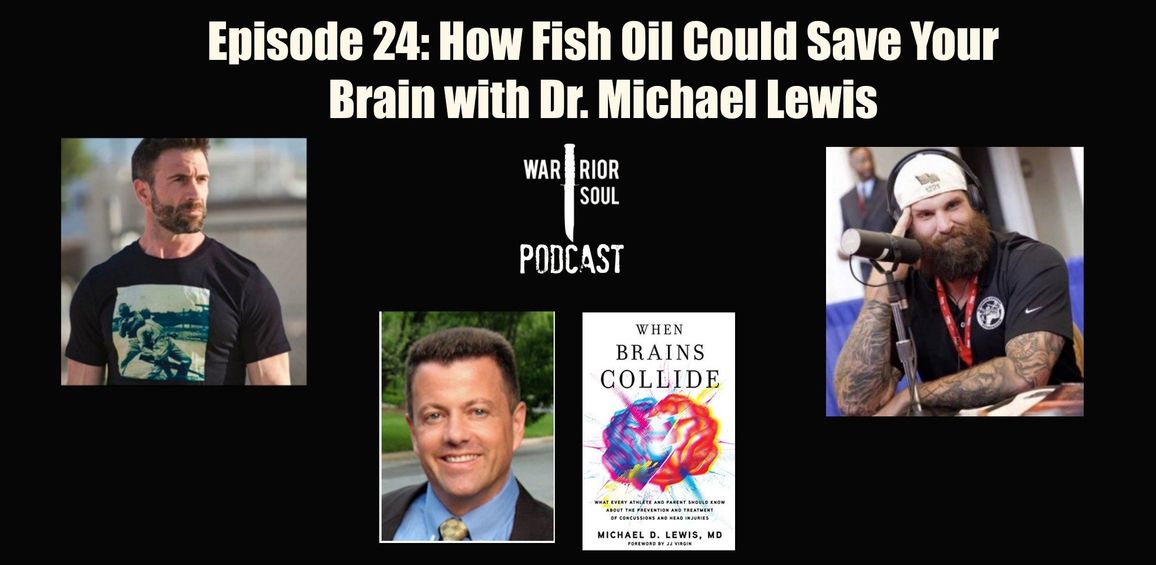 Itunes: https://itunes.apple.com/us/podcast/chris-alberts-warrior-soul/id1096901382?mt=2
Today, many people are turning to smart drugs like modafinil and adderall to make themselves smarter and to improve their brain performance. This brings up the question, why would people rely on a synthetic performance enhancing drug without first looking to more natural and less harmful food based products first?
Our guest today, Dr. Michael Lewis is at the forefront of researching how Omega 3 Fatty acids can protect, heal, and fortify the brain. Departing from the standard pharmaceutical treatment of brain injuries, Dr. Lewis has developed a protocol using high dose fish oil for patients that he outlines in his book When Brains Collide. Dr. Lewis is also a retired US Army doctor who has spent his time working with hundreds of veterans who've returned from the battlefield with brain injuries.
Dr. Lewis is doing amazing work and we fully support his efforts to spread his knowledge. You can purchase his book at https://www.amazon.com/When-Brains-Collide-Prevention-Concussions/dp/1619614928 , and if you write an honest review of the book on Amazon, screen shoot it and send it to us at info@warriorsoulapparel.com, we will send you a 25% discount on anything in the Warrior Soul Apparel store.
You can also find Dr. Lewis's non profit at http://www.brainhealtheducation.org/about-us/leadership/
Here is Dr. Lewis's full bio:  Michael D. Lewis , MD, MPH, MBA, FACPM, FACN is the president and founder of the Brain Health Education and Research Institute. He is an expert on nutritional and holistic interventions for brain health, particularly the use of omega-3 fatty acids for the prevention, management, and rehabilitation of concussions and traumatic brain injury (TBI). He founded the Brain Health Education and Research Institute in late 2011 upon retiring as a Colonel after a distinguished thirty-one- year career in the US Army. His pioneering work in the military and since has helped thousands of people around the world and is regularly featured in the media, including CNN's Sanjay Gupta, MD, show and numerous radio shows and podcasts. He is a graduate of the US Military Academy at West Point and Tulane University School of Medicine. Dr. Lewis is board-certified and a fellow of the American Colleges of Preventive Medicine and Nutrition. He completed postgraduate training at Walter Reed Army Medical Center, Johns Hopkins University, and Walter Reed Army Institute of Research. He is currently in private practice in Potomac, Maryland (BrainCARE, www.BrainCARE.center ); is a consultant to the US Army and Navy as well as several organizations, institutes, and nutrition companies around the world; and is a founding member of the Pop Warner Youth Football Medical Advisory Board.